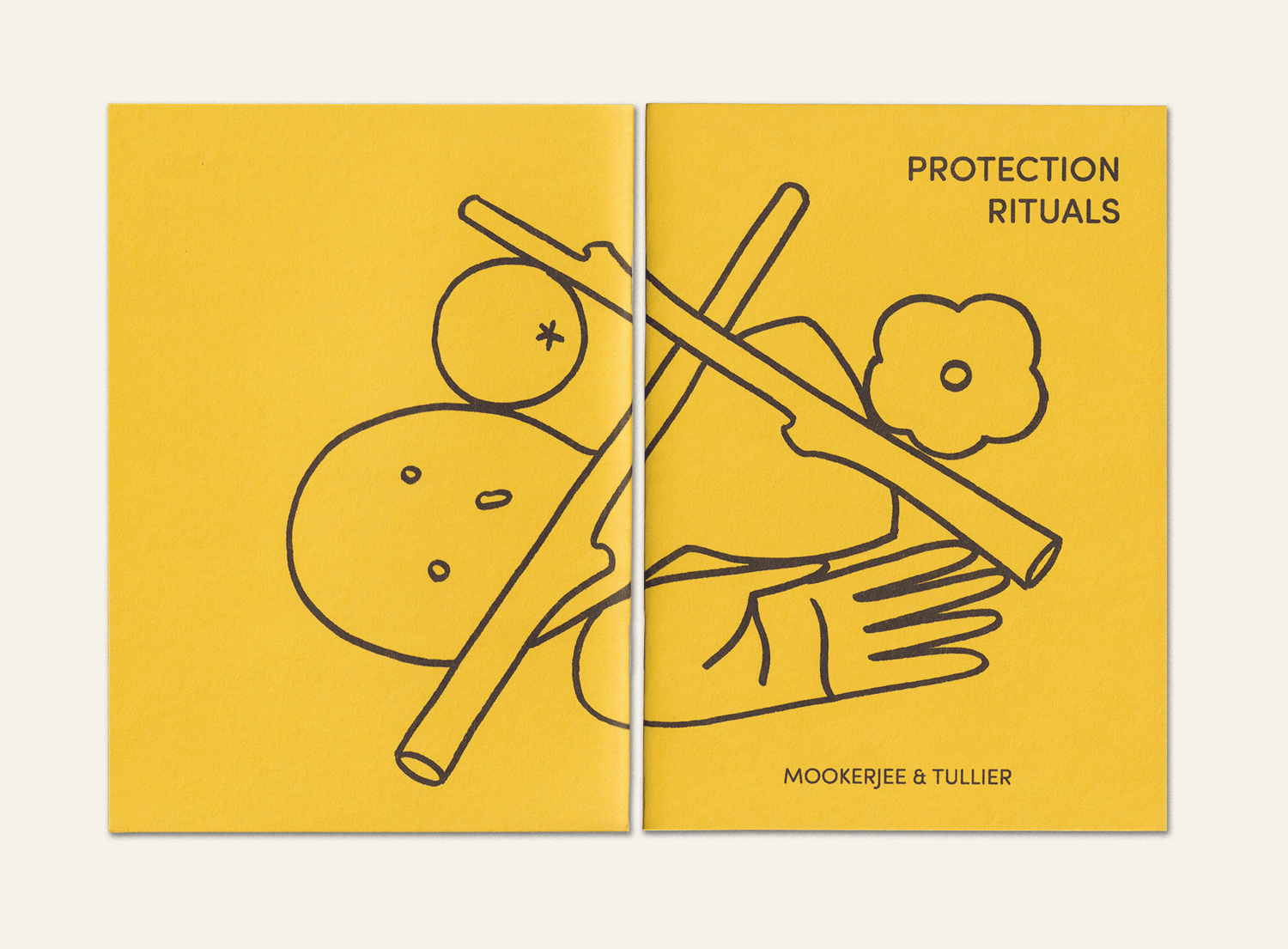 PROTECTION RITUALS by Rita Mookerjee & Wade Tullier
PROTECTION RITUALS is a collection of drawings and ekphrastic poems by Wade Tullier (Detroit, Michigan) and Rita Mookerjee (Ames, Iowa).
Tullier's spare, archetypal assemblages are in constant motion, casting long shadows over Mookerjee's defiant narrator. Velvet couches, salt lines, late-70s Bowie, and egg-topped ramen provide an indulgent backdrop for the twelve examinations of adolescence, ennui, and loneliness contained in this genre-bending collection.
Cover design, layout, printing, and binding by Erik Pedersen.
PUBLICATION DATE: 22 May 2020
PAGES: 34
DIMENSIONS: 5"x7"
PROCESS: Risography
INK COLORS: black
PAPER: FPC Pop-Tone Lemon Drop, 65# cover; Pop-Tone Whip Cream, 70# text; hand-marbled cotton rag endpapers
EDITION SIZE: 100
33/33/33 artist-poet-publisher split on each sale of this book.
RITA MOOKERJEE is an Assistant Teaching Professor in the Women's and Gender Studies Program at Iowa State University. Her poetry is featured in Aaduna, New Orleans Review, Sinister Wisdom, Queen Mob's Teahouse, and Cosmonauts Avenue. She is the author of the chapbook Becoming the Bronze Idol (Bone & Ink Press, 2019). She is the Poetry Editor and Founding Editor of Honey Literary, Assistant Poetry Editor of Split Lip Magazine, and a poetry staff reader for [PANK].
WADE TULLIER is a Detroit-based visual artist working primarily in ceramics. Raised in southern Louisiana, he holds a BFA from Louisiana State University and received his MFA from Cranbrook Academy of Art in 2017. Tullier has exhibited in numerous solo shows nationally including Underfoot (ROYGBIV Gallery, Columbus, OH), High Water Marks (Devening Projects, Chicago, IL), and New Familiars (Projects Gallery, Akron, OH). He has also shown internationally, most recently presenting work in Reykjavik, Iceland and Munich, Germany.